STEAL THIS BLOG

!!! Two nonfiction psychic detective novels of ghoulish revelation !!!
Each chapter originally posted to my infamous ZekeBlog.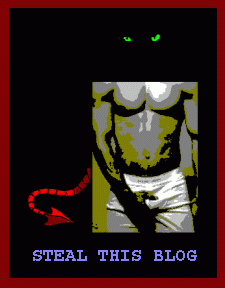 ---

Want to download the entire collection to read offline, or press to CD/DVD
and share with others? Author's permission granted! Download here:
http://www.gay-bible.org/share/Larkin.zip
File size is less than 10 mb.


---
---
Ezekiel J. Krahlin a.k.a. "Jehovah's Queer Witness": available for private and group readings. Not limited to just the contents herein. Click here, here and also here to view many other tales, poems, essays and rants by yours truly. All fees negotiable.

Click here to contact me, and negotiate a payment. Sliding scale, averaging no less than $50 per hour, and no more than $200 (US currency).

Donations accepted in any amount to support my activist goals.