Envelope & card (front).

Just a nice, blank card from Walgreens, with faux leopard-skin cover. The brown/black spots are actually fuzzy!


Envelope (closeup).

I started using a Pegasus ink stamp on all my personal snail-mail, say maybe a dozen years ago. The blue Pegasus represents my guardian angel Randolph, and the pink Pegaus is ME! Randolph guides me in all things important, including my soulfull letters. It is my belief he brought Larkin to me. Every time I see or think of Larkin, my heart lights up!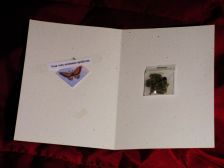 Card (open)


Card (open, closeup)

That particular butterfly in my friendship card is actually part of a scanned copy of a 5x7 watercolor. A single butterfly is depicted fluttering about a crop of orange-petaled flowers, kissed with ladybugs.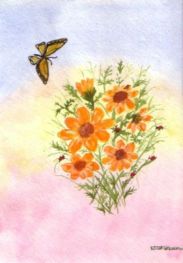 The painting was done by one of my mother's friends, there in Florida. It is the last gift from my mother before she died a few months later.

I'm sure she selected that one because of the ladybugs. For my favorite pajamas as a kid, were the ones with ladybugs printed all over them. One evening, I suddenly suffered agonizing cramps and was rushed to the hospital. I was only six years old!

I remember to this very day EXACTLY how the pain felt: just like a hollow, metal box in my bowels, jabbing its sharp corners like knives from the inside. It really hurt, but by the time the ambulance arrived, the pain had vanished. So instead of the usual appendectomy, they performed a general exploration...cutting open a 5-inch vertical slit just to the right of my navel.

Earlier that eve (before my attack), we were watching on the television set, "Snow White and The Seven Dwarves." The witch really scared me. I was eating moist shredded coconut from a can...which I believe caused my painful eruption. I couldn't eat coconut for twenty-five years! Now, it's no bother.

Turned out it WAS my swollen appendix, thus they removed it. They also cut up my pajamas on the operating table, and discarded them. When my mother asked about them, she begged to retrieve the pieces; she'd sew them all back together.

Ladybugs were my favorite insect, and we had many back in the 50's and 60's on Long Island's emerald, watered and chemicalized postage stamp lawns with a floral splash!

The sensimilla in that mini-baggie was obtained by my new friend and pot dealer, Amadu...a most handsome and joyful individual! Exactly how we met was quite fortuitous:

Approximately two weeks ago, I was taking my usual twilight stroll down Market Street to Church. Of course, passing The Metro, where Larkin often hangs out and works part time. More often than not, I stroll right on by without peering in to see if Larkin is there. But other times, I gain great pleasure simply gazing upon the darlin' Irish Soldier, even if just a flash. That night was one of 'em. So I stopped before the door, and gazed within: nope, no Larkin. He' s always REAL easy to spot, being 6'4" tall!

But as Larkin's appearance into my life has showered me with so much adventure and good fortune...often something sweet happens to me when thinking of him while out in public.

Soon as I pulled away from the door, this colorfully attired kinda flower child guy got right in my face with a BRIGHT smile, and holding a gold-lettered black sign about seven inches long and three high. It said:

Medical Marijuana
Are you in need?

His gray eyes sparked at mine, and I studied his face once more. He's a fox! And no spring chicken either, must be 40-45 and in VERY good health!

Thus began a new friendship, and access to a healing herb that has been DENIED me for so many years, for a REALLY GOOD DEAL! And I am sure it was guardian angel Larkin that provided this source of ganja through Amadu's hand. BTW, "Amadu" is a South African name, meaning "drummer".

The more I think of Larkin, the luckier I get!
Though for us actually being together (again):
Not yet.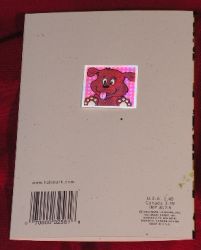 Card (back)
Just a sticker, the plastic kind that shimmers between two images. In this case, between the puppy you see above, and the words "Pup Kiss!" From my leftover Valentine's Day schlock.
So this friendship card includes blessings from: Randolph (my greatest love), my mother, and a healer (marijuana distributor). They all formed a juncture in the fourth dimension, whose point in the third, is this article you now read! All done UNCONSCIOUSLY on my part, I didn't even REALIZE the significance of those three images, except with several hours' hindsight. So I blew my own mind, too, not just yours! Truly POWERFUL medicine has come through my latest love token to my sweet and brave Irish angel, Larkin.
The magic appears of its own accord, whenever the time is ripe. I simply CHANNEL what flows through. A convergence of three loving souls dedicated to my victory in all ways conceivable, made manifest in this friendship card. Could NEVER occur if the prayer or spell was NOT evoked with ONLY the purest of good intentions.
I am awesomely honored.